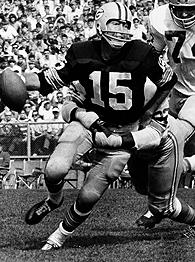 Packers Quarterback

Immediately after his retirement as a player, he served as an assistant coach (quarterbacks) in

1972

, when the Packers won the NFC Central division title at 10-4. Starr became head coach of the Packers three years later, in

1975

. His regular season record was a disappointing 52-76-2 (.408), with a playoff record of 1-1. Posting a 5-3-1 record in the strike-shortened season of

1982

, Starr's Packers made their first playoff appearance in ten years (and their last for another 11 years). They defeated the

St. Louis Cardinals

41-16 in the expanded wildcard round of 16 teams on

January 8

,

1983

, then lost to the

Dallas Cowboys

37-26 in the divisional round the following week. After a disappointing 8-8 finish the following year, Starr was dismissed in favor of his former teammate,

Forrest Gregg

.

Regular season

Starr is now chairman of Healthcare Realty Services.

In 1965, he and Cherry helped co-found

Rawhide Boys Ranch

,

New London, WI

, a facility designed to help at-risk troubled boys throughout the state a reality, and is affiliated with it yet to this day.

In 1999, he was ranked number 41 on

The Sporting News

'

list of the 100 Greatest Football Players.

Starr is one of five Green Bay Packers to have his number

(15)

retired by the team. The others are

Tony Canadeo

(3)

,

Don Hutson

(14)

,

Ray Nitschke

(66)

, and

Reggie White

(92)

. Of the five, only Starr is still living.

Starr has an NFL award named after him. The

Bart Starr Award

is given, by a panel of judges, to the best Christian player in the NFL.

Starr is an avid backgammon player, often playing under the name "NorthStar12".

Starr recently spoke at the Baylor School in Chattanooga, TN along with fellow friend Bill Curry.

In 1997, an episode of the animated television series

The Simpsons

was titled

Bart Star

. In the episode,

Bart Simpson

is elevated to the team's starting quarterback by his father and team's new coach,

Homer

, replacing

Nelson Muntz

.

Joe Namath

, who won the

Super Bowl MVP

award in

Super Bowl III

after Starr won the award in the first two games, and like Starr is a University of Alabama alumnus, appeared as himself in the episode.