Bahrain
Belgium
Bhutan
Brunei
Cambodia
Denmark
Japan
Jordan
Kuwait
Lesotho
Liechtenstein
Luxembourg
Malaysia
Monaco
Morocco
Nepal
Netherlands
Norway
Oman
Qatar
Saudi Arabia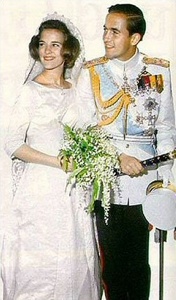 Spain
Swaziland
Sweden
Thailand
Tonga
United Kingdom
Belgium
uses full (lineal)
equal primogeniture
; since
1991
males and females have equal rights of succession but this only counts for the offspring of King Albert II, effectively barring the female descended offspring of
Leopold II
,
Albert I
and
Leopold III
from the throne. Prior to 1991 Belgium used
Salic law
.
List of succession
Current king:
Albert II
, b. 1934
Some scholars maintain that
Prince Alexander
, b. 1942, (eldest son of King Leopold III's second marriage and half-brother to King Albert II) is legally in line to the throne (currently 15th) but the public generally believes that the descendants of this second marriage have no right to the throne. Given the fact that Prince Alexander is childless and his remote position in the line of succession, after the Prince's death this issue will have no future consequences with regard to the line of succession.
HRH
Prince Philippe, Duke of Brabant
, b. 1960 (eldest son of King Albert II)
HRH
Princess Elisabeth
, b. 2001 (daughter of the Duke of Brabant)
HRH
Prince Gabriel
, b. 2003 (eldest son of the Duke of Brabant)
HRH
Prince Emmanuel
, b. 2005 (youngest son of the Duke of Brabant)
HI&RH
Princess Astrid
, b. 1962 (daughter of King Albert II)
HI&RH
Prince Amedeo
, b. 1986 (Archduke of Austria-Este, Prince Imperial of Austria, Prince Royal of Hungary and Bohemia, Hereditary Duke of Modena; future head of the
House of Austria-Este
) (eldest son of Princess Astrid)
HI&RH
Princess Maria Laura
, b. 1988 (Archduchess of Austria-Este, Princess Imperial of Austria, Princess Royal of Hungary and Bohemia, Princess of Modena) (eldest daughter of Princess Astrid)
HI&RH
Prince Joachim
, b. 1991 (Archduke of Austria-Este, Prince Imperial of Austria, Prince Royal of Hungary and Bohemia, Prince of Modena) (youngest son of Princess Astrid)
HI&RH
Princess Luisa Maria
, b. 1995 (Archduchess of Austria-Este, Princess Imperial of Austria, Princess Royal of Hungary and Bohemia, Princess of Modena) (second daughter of Princess Astrid)
HI&RH
Princess Laetitia Maria
, b. 2003 (Archduchess of Austria-Este, Prince Imperial of Austria, Princess Royal of Hungary and Bohemia, Princess of Modena) (youngest daughter of Princess Astrid)
HRH
Prince Laurent
, b. 1963 (youngest son of King Albert II)
HRH
Princess Louise
, b. 2004 (daughter of Prince Laurent)
HRH
Prince Nicolas
, b. 2005 (son of Prince Laurent)
HRH
Prince Aymeric
, b. 2005 (son of Prince Laurent)